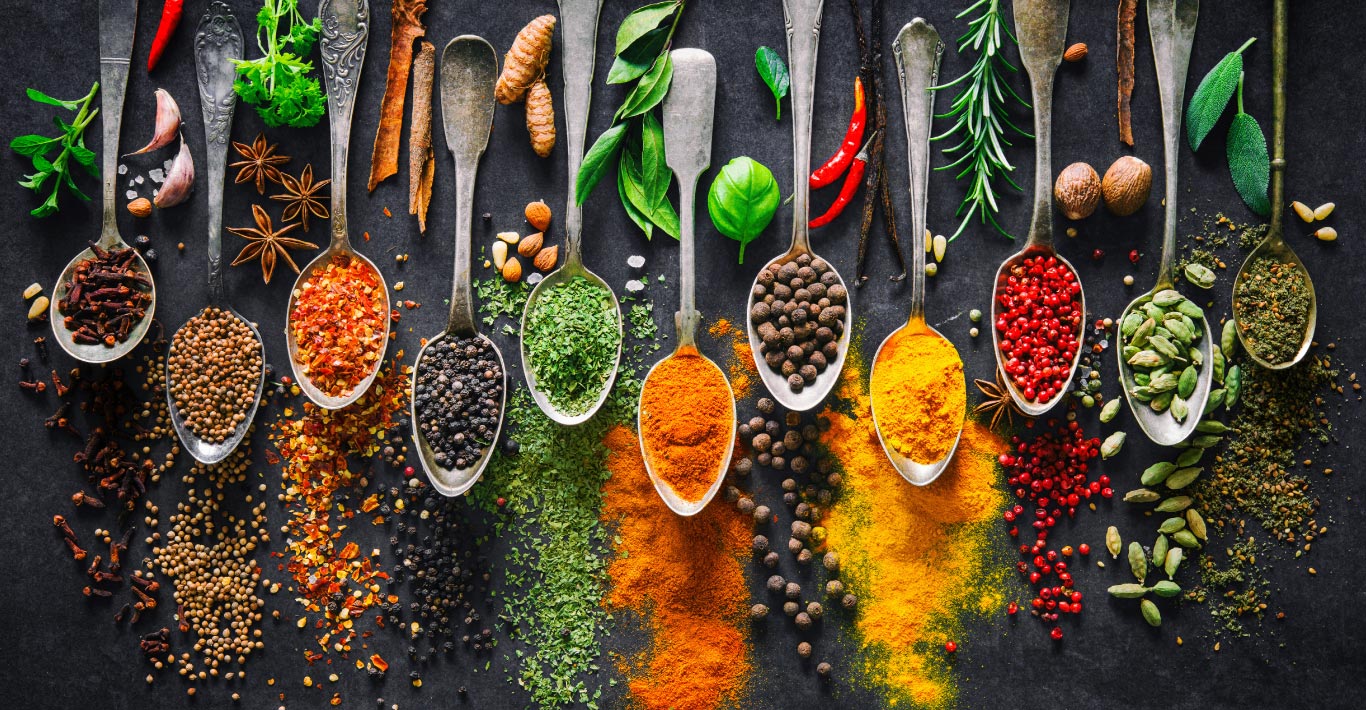 Looking for the low-down on Curry? We have you covered! Queue the wikipedia definition of curry in 3.. 2.. 1..
"Curry (plural curries) is a variety of dishes originating in the Indian subcontinent that use a complex combination of spices or herbs, usually including ground turmeric, cumin, coriander, ginger, and fresh or dried chilies. Curry is generally prepared in a sauce."
Did that clear it all up? We didn't think so 😊 In essence, Curry is not necessarily a specific dish or ingredient but a variety of dishes summed up by certain characteristics. Curries may contain fish, meat or vegetables, or be a combination of all three. The spices used to make Curry can vary by region, religion or even by family preference. Sometimes it's just about how you like it more so than how you make it. Curries can be wet or dry with dry leaving significant amounts of spices coated onto ingredients while wet Curries contain sauces or gravies. Sometimes the best way to learn about something is to dive right in – check out our top 3 do-it-at-home Curry recipes!
#1 – Curry Chicken from Delish.com
Recipe Link: https://www.delish.com/cooking/recipe-ideas/recipes/a54696/easy-indian-chicken-curry-recipe/
Ingredients:
2 tbsp. extra-virgin olive oil
1 medium yellow onion, chopped
2 lb. boneless skinless chicken breasts, cut into 1″ pieces
3 cloves garlic, minced
1 tbsp. minced ginger
1 tsp. paprika
1 tsp. ground turmeric
1 tsp. ground coriander
1/2 tsp. ground cumin
1 (15-oz.) can crushed tomatoes
1 1/2 c. low-sodium chicken broth
1/2 c. heavy cream
Kosher salt
Freshly ground black pepper
Basmati rice or naan, for serving
1 tbsp. freshly chopped cilantro, for garnish
Directions:
In a large pot over medium-high heat, heat oil. Add onion and cook until soft, 5 minutes. Add chicken and sear until no pink remains, 5 minutes. Stir in garlic and ginger and cook until fragrant, 1 minute.
Add spices and cook until very fragrant, 1 minute. Add tomatoes and broth and bring to a simmer. Stir in heavy cream, and season with salt and pepper. Simmer until chicken pieces are cooked through and tender, about 10 minutes.
Serve over rice or with naan, garnished with cilantro.
#2 – Easy Thai Red Curry from DamnDelicious.net
Recipe Link: https://damndelicious.net/2018/02/25/easy-thai-red-curry/
Ingredients:
1 1/2 cups basmati rice
1 tablespoon canola oil
1 1/2 pounds boneless, skinless chicken breasts, cut into 1-inch chunks
Kosher salt and freshly ground black pepper
2 shallots, minced
3 cloves garlic, minced
3 tablespoons red curry paste
1 tablespoon freshly grated ginger
1 (13.5-ounce) can coconut milk
1 bunch broccolini, cut into 3-inch pieces
2 green onions, thinly sliced
3 tablespoons chopped fresh cilantro leaves
2 tablespoons freshly squeezed lime juice
Directions:
In a large saucepan of 3 cups water, cook rice according to package instructions; set aside.
Heat canola oil in a large stockpot or Dutch oven over medium heat. Season chicken with salt and pepper, to taste. Add chicken, shallots and garlic to the stockpot and cook until golden, about 3-5 minutes.
Stir in red curry paste and ginger until fragrant, about 1 minute.
Stir in coconut milk. Bring to a boil; reduce heat and cook, uncovered, stirring occasionally, until reduced and thickened, about 10-15 minutes.
Stir in broccolini until just tender, about 3 minutes.
Remove from heat; stir in green onions, cilantro and lime juice; season with salt and pepper, to taste.
Serve immediately with rice.
#3 – Indian Shrimp Curry from Skinnytaste.com
Recipe Link: https://www.skinnytaste.com/indian-shrimp-curry/
Ingredients:
1 tablespoon canola oil, divided
1 pound shrimp, peeled and deveined
1/2 yellow onion, finely chopped
1 teaspoon ground ginger
1 teaspoon ground cumin
1 teaspoon ground coriander
1 1/2 teaspoons ground turmeric
1 teaspoon curry powder
1 teaspoon paprika
1/2 teaspoon chili powder
2 cloves garlic, minced
1 15 ounce can tomato sauce
3/4 cup lite canned coconut milk
1/2 teaspoon Kosher salt
cilantro and chili peppers for garnish
Directions:
Add 2 teaspoons of the canola oil on high heat in a large skillet.
Add the shrimp and cook for 1 minute on each side then remove the shrimp from the pan.
Add the remaining teaspoon of the canola oil to the skillet with the onions.
Cook the onions for 5 minutes on medium heat, stirring occasionally.
Add in the ginger, cumin, coriander, turmeric, paprika, curry powder, chili powder, salt and garlic.
Stir well, letting cook for 30 seconds then add in the tomato sauce and combine.
Add in the coconut milk and shrimp to the pan and stir well.
Garnish with cilantro and chili peppers if desired.