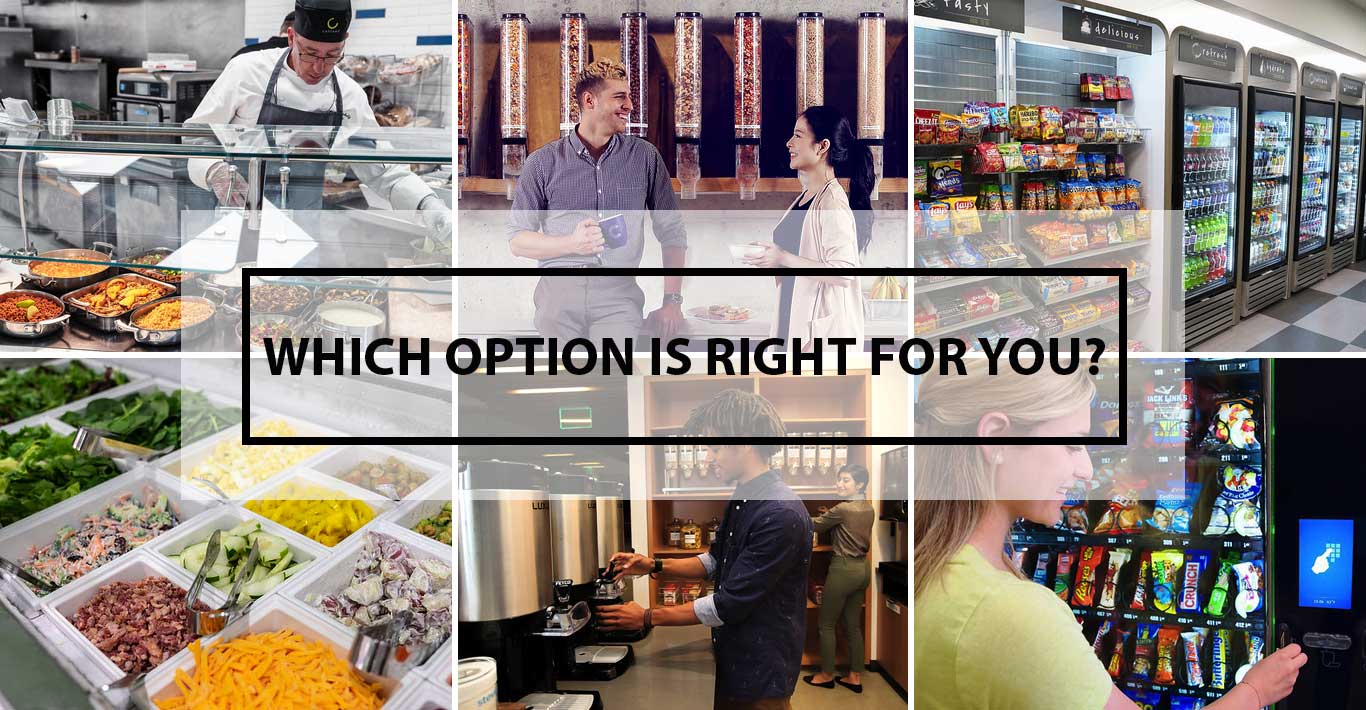 Which Option is Right for You?
The right breakroom options can have a direct effect on everything from your employee's productivity and creativity to your ability to retain and recruit top talent. Let's dive in and find out what options are right for you!
Dining Service (cafeterias)
Employee Count: 2,000+
Usually reserved for accounts with 2,000+ employees, Dining Service or Cafeterias, offer food options for accounts with employees not allowed to leave campus, do not have the time to leave campus or are looking to offer employees the ultimate in food options. Good cafeterias breed conversation, collaboration and inspire teamwork. Successful companies know that getting employees talking and brainstorming is the cornerstone of great ideas and growth. Centralized, collaborative locations such as cafeterias with warm atmospheres, comfortable seating and energizing food can directly impact a company's productivity and growth.
Check out our previous post about cafeteria design and its impact on your employees.
Micro Market
Employee Count: 100+
Micro Markets are a great option for businesses not large enough for a cafeteria but looking to offer the same type of options and variety that a cafeteria affords. Micro Markets use cashier-less technology to offer your employees an open market in which to choose food and drink. Without the constraints of traditional vending machines, a Micro Market can offer snacks, drinks and food in all different shapes and sizes. This larger array of products and food options helps to keep employees onsite and engaged.
Read our post on Micro Markets.
Pantry Service
Employee Count: Any Size
You need the upper-hand in employee retention and recruitment! Turnover is costly and today's employees are looking for companies with benefits. Pantry Service provides an array of snacks, drinks and in some cases pre-packaged food items billed directly to the business each month. In addition to increasing retention, providing free food, drinks and snacks can refresh and revitalize your current staff, which in turn can help to drive productivity. Choose the program that is right for you, fits your budget and helps to accomplish your employee satisfaction goals.
Learn more about Pantry Service.
Coffee Service
Employee Count: Any Size
Can you do anything before your first cup of coffee in the morning? We didn't think so and neither can your employees. Coffee is the cornerstone of any good breakroom program and if breakroom programs are fuel for your employees, coffee is the main entree AND the side! What do we mean by that? If you offer no other options to your employees, offer coffee! Coffee inspires, fuels and pushes your employees throughout the day. It helps to build conversation and inspiration. It is the main entrée! Have a Micro Market, Cafeteria or Vending program already? Compliment these programs with a side of coffee! Even the best entrees are made better by a great side dish!
Check out how to choose the right coffee for your team.
Vending
Employee Count: 100+
Micro Markets have had a big impact on breakroom culture but Vending still has a role to play. Accounts with breakrooms that may be accessible by the public, have large contractor populations or are just not yet comfortable with the open market concept, vending will always be there. Vending can offer employees great snack, drink and food options and when complimented with a full coffee program, provide well-rounded options for any account. When making important decisions about your employee's welfare, work with a company that does it all. From Micro Markets, Coffee and Vending to full-service Cafeterias and Pantries, VVS does it all. Give us a call today for a FREE assessment of your breakroom options.