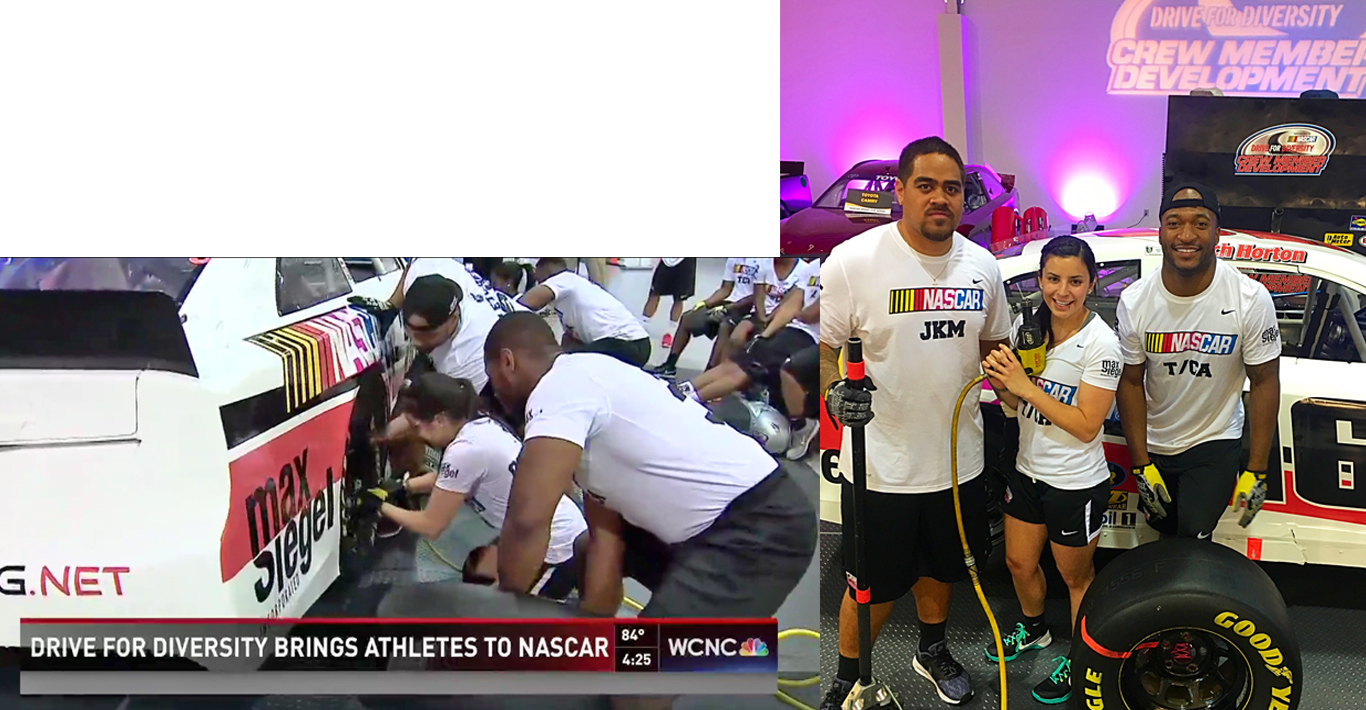 Breanna O'Leary Chosen by NASCAR
The following article is provided by NASCAR (http://www.nascar.com/en_us/news-media/articles/2016/8/17/nascar-drive-for-diversity-pit-crew-program-college-athletes.html).
DAYTONA BEACH, Fla. (Aug. 17, 2016) – NASCAR and Rev Racing today announced nine former college student-athletes selected to participate in the NASCAR Drive for Diversity (D4D) Crew Member Development Program. The new class of participants received invitations to train with Rev Racing following standout performances at the first national D4D pit crew combine in May.
Multicultural athletes starring in football, basketball and softball at the college level will receive expert training as tire changers, carriers and jackmen, with the goal of gaining fulltime employment with NASCAR national series race teams.
"We've assembled a very talented group of athletes who we believe has what it takes to excel on pit road in NASCAR," said Jim Cassidy, senior vice president of racing operations. "Each D4D participant will benefit from Rev Racing's best-in-class training program, and we look forward to watching them grow and develop over the next 12 months."
This year NASCAR and Rev Racing revamped the crew member scouting process, hosting tryouts at six universities across the country. Eighteen men and women from 12 states and one U.S. territory were selected to compete in the national combine in Concord, N.C. Half earned invitations to join the D4D pit crew program.
"We are very excited for the arrival of the new 2016 Drive for Diversity pit crew recruits," said Max Siegel, owner and CEO of Rev Racing. "With the national combine and recruitment effort this past year, we were able to select the top level of athletic talent. We look forward to training these individuals and placing them along pit road in the national series. Our academy-style approach to training continues to show success year after year; this class will not fall short."
Among the new D4D participants are three former football players from the University of Kansas, one of the schools to host tryouts. Appalachian State's Jeremy Kimbrough, who spent time with the Washington Redskins, and Joshua Tate, an All-American at Clark Atlanta University, are also looking to transition from the gridiron to NASCAR.
A pair of female athletes in former Norfolk State, basketball player Brehanna Daniels and former Alcorn State University softball player Breanna O'Leary, will train as tire changers under the tutelage of Phil Horton, Rev Racing's director of human performance.
There are 35 graduates of the D4D Crew Member Development Program currently working in NASCAR. Three alums – Raphael Diaz, Kevin Richardson and Richie Williams – celebrated in Victory Lane as members of Chris Buescher's pit crew after the NASCAR Sprint Cup Series driver won his first premier series race at Pocono Raceway on Aug. 1.
Last November, Diaz and Roush Fenway Racing teammate Mike Russell became the first D4D graduates to win a national series championship when Buescher clinched the 2015 NASCAR XFINITY Series championship.
The new members of the D4D Crew Member Development Program include:
| | | | | |
| --- | --- | --- | --- | --- |
| First | Last | Hometown | University | Primary Sport |
| Brehanna | Daniels | Norfolk, Va. | Norfolk State University | Basketball |
| Kapil | Fletcher | Fort Lauderdale, Fla. | University of Kansas | Football |
| Tedarian | Johnson | Jackson, Miss. | University of Kansas | Football |
| Jeremy | Kimbrough | Decatur, Ga. | Appalachian State University | Football |
| Corey | King | Boca Raton, Fla. | University of Kansas | Football |
| Lamar | Neal | Virginia Beach, Va. | Norfolk State University | Football |
| Breanna | O'Leary | Amarillo, Texas | Alcorn State University | Softball |
| Jorden | Paige | Buffalo, N.Y. | Clark Atlanta University | Football |
| Joshua | Tate | Memphis, Tenn. | Clark Atlanta University | Football |
The NASCAR Drive for Diversity program, under the leadership of Rev Racing, supports both crew member and driver development opportunities. Driver graduates include NASCAR Sprint Cup Series driver Kyle Larson, and NASCAR XFINITY Series drivers Daniel Suarez and Darrell Wallace Jr.
For more information on NASCAR Drive for Diversity, visit www.NASCARDiversity.com.